Description
Until now, choices were limited if you wanted to learn how to treat with medical floss.
You had to read a book or attend an expensive class that locked you into treating patients with specific, complex protocols.
Not anymore.
The FMT RockFloss introduces the use of compression floss bands to help reduce tissue edema, improve movement and modulate discomfort*. This course will cover the effects of compression band flossing on connective tissue gliding, tissue traction and tissue compression. Relevant anatomy, physiology and neurology of influenced tissues will be discussed. Interventions with compression band floss (including direction and pressure concepts) will be reviewed and integrated into current rehabilitative concepts.
The term 'flossing' is commonly associated with the image of a thick rubber band wrapped around an athlete's large muscles, however; 'floss bands' are an excellent tool for clinical care and a valuable tool for your patient's and athlete's self care programs.
These courses are intended for health professionals with a basic understanding of soft tissue techniques.
Functional Movement Training (FMT) courses are taught by industry leading experts in movement assessment, performance and rehabilitation. CEUs may be offered for DC, ATC, PT, LMTs, LAc, OTs and personal trainers. If your profession & state is unavailable, we do not currently offer CEUs – however, we are continually adding additional licenses.
Note: Tools are not provided with this course.
Learning Objectives
Define, understand and integrate the myofascial sequencing model
Define, understand and integrate the myofascial sequencing model

Discover and explore neuroanatomy of the dermal/fascial subsystem
Recognize and demonstrate a novel skin/fascial glide screening process  
Describe and interpret current research as it relates to connective tissue gliding and pain modulation
Differentiate compression floss band wrapping techniques with graded exposure of tension, direction and pressure parameters
Define, practice, and explaincompression floss band application techniques and link them to appropriate soft tissue pathology
Compare, contrast and perform various methods of current rehabilitative treatment (open and closed chain exercise) techniques with compression band floss
Introduce and integrate musculoskeletal diagnostic ultrasound to identify abnormal tissue gliding
Course Procedure
This course is 6 hours in length and a 30 Question multiple choice quiz will be required after completing the course to receive your CEU certificate. A 70% test score is required to pass and receive CEUs. The quiz can be open book and unlimited attempts on the quiz are allowed.
25% fee for cancellations on courses that have been marked as "in progress" - or partially viewed. Execution of refund is contingent upon the review of RockTape/Implus Footcare LLC to determine course status. Full refunds will be issued to those who have not reviewed any portion of the course and will be processed within 3-5 business days. Refunds expected to be returned to the original payment method used unless stated otherwise by RockTape/Implus Footcare LLC. Due to the method of delivery for these courses (i.e., on-demand), registration is ongoing and therefore does not have a registration deadline associated with it.
Yes, we offer military, student, and group discounts. For a student discount, please email a copy of your student ID or current course schedule with the year on it to student@rocktape.com. Be sure to note the exact course you are enrolling in to receive a specific code (i.e. August 15th, 2023 Basic Webcast).
What are your hours of operation?
Monday-Thursday: 7a-4p EST
Friday: 7a-4p EST
Holidays may impact these hours.
Will I receive supplies with my course purchase?
This depends on the course type. The materials for a live course will be shipped to the course location and will be presented to you upon arrival. Webcast supplies will be sent directly to you and should be received on the week of. Our on-demand courses do not include supplies but can be purchased separately through our medical distribution partners. Please visit the "Get Medical Pricing" tab to purchase discounted materials for use in an on-demand course
When does course registration close?
For a webcast course:
Webcast registrations close the Friday of the week before the scheduled class date/time (8/9 days -unless otherwise stated).
For a live course:
Live course registrations close 24 hours before the scheduled course date/time.
I am enrolled in a webcast, but I have not received my supplies yet. Now what?
Supplies are sent manually on a course-by-course basis. This means your supplies and informational email will be sent to you on the week of. If you do not receive your supplies by the Thursday before the course, please reach out to student@rocktape.com for assistance.
Do I need to have someone with me to practice on during a webcast or an on-demand course?
No, it is not necessary for you to have a model with you while you complete the course. However, we do find it helpful to practice the principles as they are presented, so you are more than welcome to have someone present with you during the course. Note: Any model/person(s) who have not registered for the course will not receive a certificate or CEU credits.
Do I need to do anything to prepare myself before taking the post-course quiz?
Yes, please ensure you download the study guides located in the "Downloads" tab and complete your participant waiver (if you haven't already).
When will I receive my certificate?
For a live/webcast course:
If you have completed all the course paperwork and quizzes, you will receive your certificate in approximately three weeks from the course completion date.
For an on-demand course:
You will receive your certificate immediately after completing your course.
How do I know if a course is approved for CEUs?
Please check the "CEU Details" tab on the course listing page. Each course, profession, and state have different approvals. If you do not see your profession and/or state on the CEU Details page, then we do not have approvals. You are more than welcome to check with your licensing board to see if the course meets their requirements.
I am enrolled in a webcast. How do I log in to access the webcast?
Once you register and complete your waiver you will receive login instructions that includes your password to the webcast. Please read this document carefully and in full.
Do you have any other questions or concerns?
Please reach out to student@rocktape.com.
Steve Capobianco, DC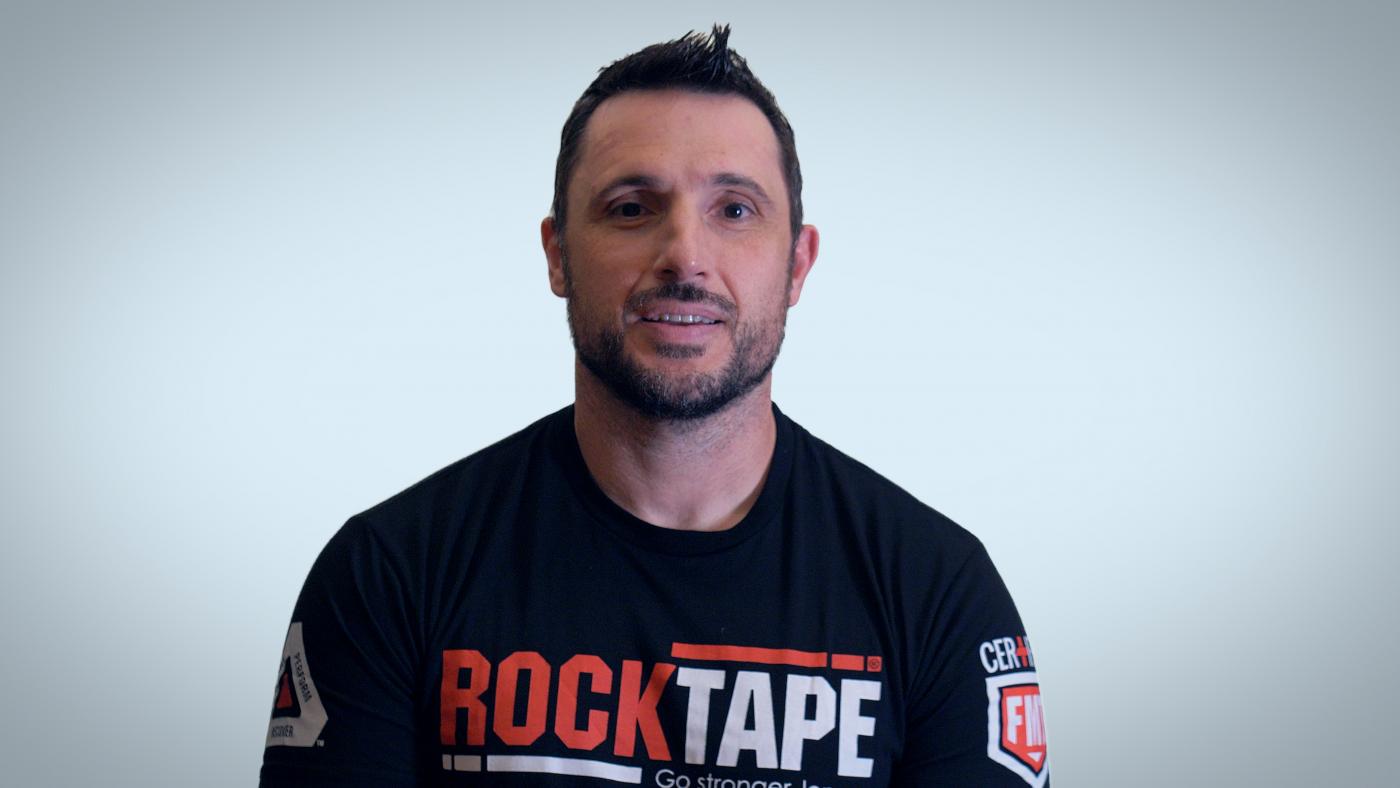 Dr. Capobianco holds a B.A. and M.A. in Kinesiology and Exercise Science in addition to a doctorate in Chiropractic Medicine. Steve is a practicing sports chiropractor, currently holding a Diplomate in Rehab from the ACA, in addition he is a Certified Chiropractic Sports Practitioner, and a Performance Enhancement Specialists from the NASM. He is a certified in Active Release and Graston Technique provider that allows him to treat a myriad of musculoskeletal injuries using a combination of hand and tool release therapy.
Steve recently launched a sports specific rehab and performance institute called ProjectMOVE in Denver Colorado that focuses on identifying motor control dysfunction in an attempt to enhance human performance from the professional athlete to weekend warrior.
Steve is an avid athlete with a passion for sports. He has spent 25 years competing in ice hockey, lacrosse, triathlons, adventure racing, and natural bodybuilding. Steve is the Medical Director
Hour One
Welcome & introduction of instructor and course participants
Overview of outline of the course; introduction of topics that will be covered as well as description of practical lab experience and presentation of case studies.
What is FMT? Functional Movement Training
Floss Bands (Ch1)
Review framework of the RockTape Movement Pyramid
Understand neuroanatomy, skin anatomy and fascial physiology and how it relates to RockFloss technique
Review the current literature related to banded floss techniques for fascial gliding
Compression Floss Band History (Ch 2)
Understand historical uses of floss bands
Define Time Under Pressure (TUP)
Review safety of applications
Flossing indications/contraindications
Hour Two
Mechanisms (Ch 3)
Introducing skin/fascial screening process
Introduce and practice use of floss as it relates to shear and compression
Review of fascial anatomy and implications
Use of floss for fluid pump
Joint Centration applications
Application Introduction (swelling, function, fascial glide, targeted, external cueing)
Research (Ch 4)
Anatomy and Physiology mechanisms for Floss Compression Bands (Ch 4)
Treatment positions graded exposure techniques related to the treatment process
Hour Three
Screening (Ch 5)
Treatment Considerations for Floss Application (Ch 5)
Application (time under pressure)
Open chain activities
Closed chain activities
Meaningful movement
Re-assessment
Treatment Considerations (Ch 6)
Depth
Pressure
Graded Exposure
External Glides, Mobilization Grades
Fascial Chains
Hour Four
All in One Application (Ch 7)
Calf Examples, Practice, Instructor Feedback
Ankle Examples, Practice, Instructor Feedback
Knee Examples, Practice, Instructor Feedback
Elbow Examples, Practice, Instructor Feedback
Learn, practice and perform specific applications of flossing:
Hour Five
Movement Pattern Assistance (Ch 8)
Pattern Assist in Lower Leg
Anterior Tibialis
Gastroc-Soleus Complex
Tissue Glide Application (Ch 9)
Directional Preferences
Research Update
External glides over floss applications
Targeted Floss Application (Ch 10)
Hour Six
Movement Cue Application (Ch 11)
Upper Body
Lower Body
Combination Applications
Condition Specific Applications
Instituting protocol of progression and regression for specific conditions
Case Study of Diaphragm (Ch 12)
Learn, practice and perform specific applications of flossing for diaphragmatic cue
Instructor Feedback
Q/A
DC
This course is valid for continuing education credit in the following states, so long as it falls within the scope of practice as outlined by the corresponding state board: AK, CO, CT, DE, DC, HI, ID, IL, IN, IA, KS, ME, MD, MA, MI, MN, MT, NE, NH, NV, NJ, NC, ND, OH, OR, RI, SC, SD, UT, VT, VA, WA, WY (Considered distance learning, please check with your board how many hours you are allowed)
Please note that online continuing education is not recognized in the following states: FL, LA, MS, OK, WI
CEU approval for this course has been submitted and is pending: AL, AR, AZ, GA, KY, MO, NM, NY, PA, TN, TX, WV
*NUHS makes no representation either directly or indirectly that the substantive matter being presented is approved or within respective scope of licensing. It remains the attendees' responsibility to contact the state board(s) from which they seek continuing education credits for purposes of ensuring said board(s) approves both the delivery method and content as they relate to this event.
PT/PTA
AL, CO, CT, IA, MA, ME, MN, NH, OR, SD, UT, WA, WY – FMT RockFloss meets continuing education requirements for these State Physical Therapy Boards.
AK, AZ, DE, GA, HI, ID, IN, MI, MS, MO, MT, NC, ND, PA, RI, SC, TN, VA – FMT RockFloss meets continuing education requirements for these State Physical Therapy Boards by virtue of APTA Kentucky, A Chapter of the American Physical Therapy Association, for 6 Category 1 contact hours.
KY- FMT RockFloss has been approved by the APTA Kentucky, A Chapter of the American Physical Therapy Association, for 6 Category 1 contact hour(s).
MD - FMT RockFloss has been approved by the Maryland Board of Physical Therapy Examiners approval # 2020-489.
NY - FMT RockFloss is approved by NYPTA, Course # NY 23-08-19 for 7.2 contact hours.
OK – FMT RockFloss has been approved by the Oklahoma State board of Medical Licensure & Supervision for 6 category B hours PT CE course #BAP202310016.
TX – FMT RockFloss is approved by TPTA FMT Blades 6 CCUs approved by the Texas Board of Physical Therapy Examiners.
DC, IL – FMT RockFloss (6 contact hours) meets continuing education requirements for these State Physical Therapy Boards by virtue of a National University of Health Sciences approval. NUHS is recognized by the Secretary of States Department of Education.
AT
FMT RockFloss (BOC Approved provider # P8570) is approved by the Board of Certification, Inc. to provide continuing education to Certified Athletic Trainers. This program is eligible for a maximum of (6 hours/CEUs FMT RockFloss Category A) ATs should claim only those hours actually spent in the educational program.
LMT
FMT RockFloss is approved (#179) by the National Certification Board for Therapeutic Massage & Bodywork (NCBTMB) as a continuing education Approved Provider.
OT
FMT RockFloss meets continuing education requirements for AR, HI, ID, MA, ME, MI, NE, ND, SC, TX, VA, WI OT Boards.
FITNESS 
AFAA 
FMT RockFloss (0.6 CEUs) has been approved by the AFAA Professional Education Committee. Provider #922.
NASM
FMT RockFloss (0.6 CEUs) is approved by NASM Provider #922
ACSM
FMT RockFloss is approved by ACSM (6 CECs).
ACSM approved providership of this program does not imply endorsement of the sponsoring organization's products/services.