Description
Utilizing tissue drag via tweak taping can be a powerful and effective technique for reducing pain while improving function and range of motion in specific areas of the body. Join NCAA athletic trainer Mitch Hauschildt for a course in tweak taping is simple, cost effective and produces quick results, making it an ideal intervention for a number of patients and clients. We will dive deep into the mechanism behind the technique to gain an understanding as to exactly how tweak taping works, as well as demonstrate several strategies to tape different areas of the body and present a number of case studies to close the loop on this exciting taping technique.
Learning Objectives
Demonstrate the proposed mechanisms that make tweak taping an effective technique


Utilize a simple evaluation process to identify the location and direction of tweak taping techniques

Determine which patients and clients that are likely to respond well to tweak taping applications
Course Content
| | | | |
| --- | --- | --- | --- |
| Advanced Tweak Taping | Module | | |
25% fee for cancellations on courses that have been marked as "in progress" - or partially viewed. Execution of refund is contingent upon the review of RockTape/Implus Footcare LLC to determine course status. Full refunds will be issued to those who have not reviewed any portion of the course and will be processed within 3-5 business days. Refunds expected to be returned to the original payment method used unless stated otherwise by RockTape/Implus Footcare LLC. Due to the method of delivery for these courses (i.e., on-demand), registration is ongoing and therefore does not have a registration deadline associated with it.
Yes, we offer military, student, and group discounts. For a student discount, please email a copy of your student ID or current course schedule with the year on it to student@rocktape.com. Be sure to note the exact course you are enrolling in to receive a specific code (i.e. August 15th, 2023 Basic Webcast).
What are your hours of operation?
Monday-Thursday: 7a-4p EST
Friday: 7a-4p EST
Holidays may impact these hours.
Will I receive supplies with my course purchase?
This depends on the course type. The materials for a live course will be shipped to the course location and will be presented to you upon arrival. Webcast supplies will be sent directly to you and should be received on the week of. Our on-demand courses do not include supplies but can be purchased separately through our medical distribution partners. Please visit the "Get Medical Pricing" tab to purchase discounted materials for use in an on-demand course
When does course registration close?
For a webcast course:
Webcast registrations close the Friday of the week before the scheduled class date/time (8/9 days -unless otherwise stated).
For a live course:
Live course registrations close 24 hours before the scheduled course date/time.
I am enrolled in a webcast, but I have not received my supplies yet. Now what?
Supplies are sent manually on a course-by-course basis. This means your supplies and informational email will be sent to you on the week of. If you do not receive your supplies by the Thursday before the course, please reach out to student@rocktape.com for assistance.
Do I need to have someone with me to practice on during a webcast or an on-demand course?
No, it is not necessary for you to have a model with you while you complete the course. However, we do find it helpful to practice the principles as they are presented, so you are more than welcome to have someone present with you during the course. Note: Any model/person(s) who have not registered for the course will not receive a certificate or CEU credits.
Do I need to do anything to prepare myself before taking the post-course quiz?
Yes, please ensure you download the study guides located in the "Downloads" tab and complete your participant waiver (if you haven't already).
When will I receive my certificate?
For a live/webcast course:
If you have completed all the course paperwork and quizzes, you will receive your certificate in approximately three weeks from the course completion date.
For an on-demand course:
You will receive your certificate immediately after completing your course.
How do I know if a course is approved for CEUs?
Please check the "CEU Details" tab on the course listing page. Each course, profession, and state have different approvals. If you do not see your profession and/or state on the CEU Details page, then we do not have approvals. You are more than welcome to check with your licensing board to see if the course meets their requirements.
I am enrolled in a webcast. How do I log in to access the webcast?
Once you register and complete your waiver you will receive login instructions that includes your password to the webcast. Please read this document carefully and in full.
Do you have any other questions or concerns?
Please reach out to student@rocktape.com.
Mitch Hauschildt, ATC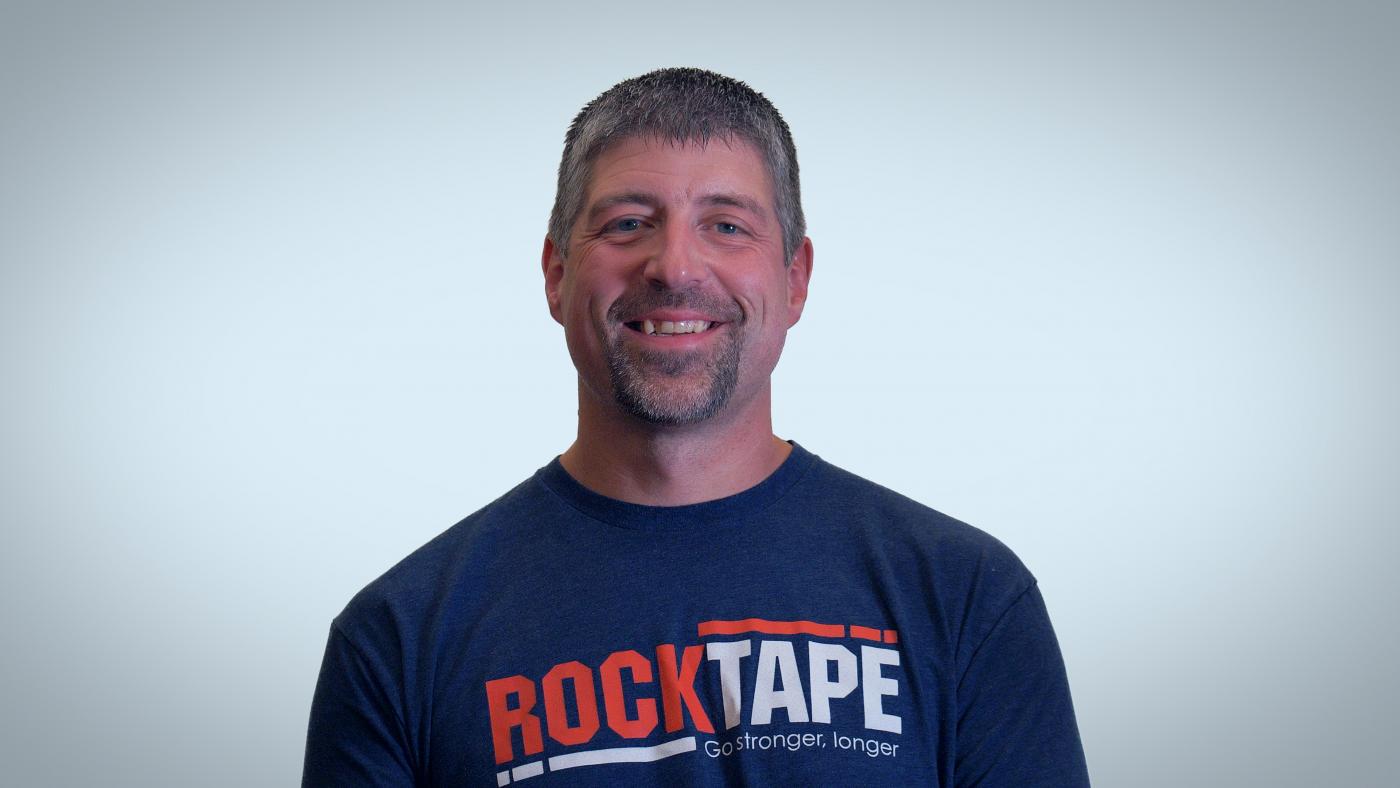 Mitch Hauschildt, ATC is a certified athletic trainer by the National Athletic Trainer's Association, a Certified Strength and Conditioning Coach by the National Strength and Conditioning Association, and a certified Club Coach by USA Weightlifting. MTS is a full service Sports Medicine and Sports Performance consultancy which he created to help coaches, trainers, therapists, and other health professionals and athletes reach their full potential in their athletic related endeavors. In addition to being the founder and President of MTS, Mitch serves as the Prevention, Rehab, and Physical Performance Coordinator for 16 sports, as well as the strength and conditioning coach for Women's basketball and Volleyball at Missouri State University. His areas of interest included functional movement and biomechanics, high speed treadmill training, and metabolics. He believes that sports are not only a great outlet for people of all ages and levels to get exercise, express themselves and relieve stress, but sport teaches us all a great deal about ourselves and others.
Hour 1: 
Define tweak taping

 

Describe who will benefit the most from tweak taping

 

Explore the proposed mechanisms underlying tweak taping

 
Hour 2:  
Learn various regions of the body that respond well to tweak taping including the shoulder, lumbar spine, hip, knee, and muscle belly

 

Discuss case studies related to advanced tweak taping techniques

 
DC
This course is valid for continuing education credit through NUHS in the following states, so long as it falls within the scope of practice as outlined by the corresponding state board: AL, AK, CO, CT, DE, DC, HI, ID, IL, IN, IA, KS, KY, ME, MD, MA, MI, MN, MT, NE, NV, NH, NJ, NY, NC, ND, OH, OR, RI, SC, SD, UT, VT, VA, WA, WV, WY (Considered distance learning, please check with your board how many hours you are allowed
Please note that online continuing education is not recognized in the following states: FL, LA, MS, OK, WI
CEU approval for this course has been submitted and is pending: GA, NM, MO, PA, TX
*NUHS makes no representation either directly or indirectly that the substantive matter being presented is approved or within respective scope of licensing. It remains the attendees' responsibility to contact the state board(s) from which they seek continuing education credits for purposes of ensuring said board(s) approves both the delivery method and content as they relate to this event.
PT/PTA
Advanced Tweak Taping meets continuing education requirements for these State Physical Therapy Boards: AL, CO, CT, IA, ME, MA, MN, NH, OR, SD, UT, WA, WY
Advanced Tweak Taping meets continuing education requirements for these State Physical Therapy Boards by virtue of approval by TPTA, Approval #75439TX for 2 contact hours: AK, AZ, DE, GA, HI, ID, IN, MI, MS, MO, MT, NC, ND, PA, RI, SC, TN, VA.
FL – This course is approved by the FPTA for 2 hours, CE Broker Approval #:CE23-907902
IL - Advanced Tweak Taping (2 contact hours) meets continuing education requirements for these State Physical Therapy Boards by virtue of a National University of Health Sciences approval: IL . NUHS is recognized by the Secretary of States Department of Education.
KY – This course is Category 2 continued competency activity by the APTA Kentucky. Category 2 activities include courses that are less than 3 hours in length; these courses do not require formal approval.
TX – This activity has been approved by the Texas Board of Physical Therapy Examiners for 2.00 CCUs for PTs and PTAs. Approval #75439TX
ATC
Advanced Tweak Taping (BOC Approved provider # P8570) is approved by the Board of Certification, Inc. to provide continuing education to Certified Athletic Trainers. This program is eligible for a maximum of (2 hours/CEUs Advanced Tweak Taping Category A). ATs should claim only those hours actually spent in the educational program.
LMT
Advanced Tweak Taping is approved by the National Certification Board for Therapeutic Massage & Bodywork (NCBTMB). Provider #179.