Description
Whether you're a new grad or you've been working the clinic for decades - Understanding and Treating the Shoulder can be an overwhelmingly complex issue for the best of us. This course is for medical professionals as well as trainers and coaches who want to level up their Patient Intake, History, Screening and Assessment of Shoulder Injuries. This information is critical in setting the tone for any treatment strategies or interventions utilized with the patient or client. Once we decipher not only what is happening in the shoulder complex, but also why it's happening - this course demonstrates with Live Applications and Use of Treatment Strategies based off of these findings. What is the best tool to choose for the job at hand? Deciding which modality or exercise to utilize can be daunting. We will learn progressive and regressive strategies for treating Pain, Mobility, Stability, and Motor Control with tactics such as Cupping, Compression Floss Therapies, Kinesiology Taping, and Corrective Exercise Strategies.
NUHS CEU approval for this course has been submitted and is pending: AR, CA, GA, NM, TX

Learning Objectives
Identify and recognize common shoulder injuries as they relate to rotational athletes

Understand and criticize current research on pathology and etiology of shoulder injuries.


Simplify and utilize local and global assessment methods for the shoulder as well as surrounding associated muscle groups and joints.

Choose and illustrate assessment concepts by using the entire body and its kinetic chain for addressing shoulder biomechanics.

Apply and demonstrate evidence-based treatment techniques. Examples of applications for active modalities in the course include; manual therapies of Decompression Therapy, Compressive Therapies and use of Kinesiology Taping for common shoulder dysfunctions.

Recognize and interpret Corrective Exercise Intervention Strategies that clients or patients can utilize to address dysfunctional movement patterns at home.
Course Content
| | | | |
| --- | --- | --- | --- |
| The Shoulder Complex: It's Not that Complex | Module | | |
25% fee for cancellations on courses that have been marked as "in progress" - or partially viewed. Execution of refund is contingent upon the review of RockTape/Implus Footcare LLC to determine course status. Full refunds will be issued to those who have not reviewed any portion of the course and will be processed within 3-5 business days. Refunds expected to be returned to the original payment method used unless stated otherwise by RockTape/Implus Footcare LLC. Due to the method of delivery for these courses (i.e., on-demand), registration is ongoing and therefore does not have a registration deadline associated with it.
Yes, we offer military, student, and group discounts. For a student discount, please email a copy of your student ID or current course schedule with the year on it to student@rocktape.com. Be sure to note the exact course you are enrolling in to receive a specific code (i.e. August 15th, 2023 Basic Webcast).
What are your hours of operation?
Monday-Thursday: 7a-4p EST
Friday: 7a-4p EST
Holidays may impact these hours.
Will I receive supplies with my course purchase?
This depends on the course type. The materials for a live course will be shipped to the course location and will be presented to you upon arrival. Webcast supplies will be sent directly to you and should be received on the week of. Our on-demand courses do not include supplies but can be purchased separately through our medical distribution partners. Please visit the "Get Medical Pricing" tab to purchase discounted materials for use in an on-demand course
When does course registration close?
For a webcast course:
Webcast registrations close the Friday of the week before the scheduled class date/time (8/9 days -unless otherwise stated).
For a live course:
Live course registrations close 24 hours before the scheduled course date/time.
I am enrolled in a webcast, but I have not received my supplies yet. Now what?
Supplies are sent manually on a course-by-course basis. This means your supplies and informational email will be sent to you on the week of. If you do not receive your supplies by the Thursday before the course, please reach out to student@rocktape.com for assistance.
Do I need to have someone with me to practice on during a webcast or an on-demand course?
No, it is not necessary for you to have a model with you while you complete the course. However, we do find it helpful to practice the principles as they are presented, so you are more than welcome to have someone present with you during the course. Note: Any model/person(s) who have not registered for the course will not receive a certificate or CEU credits.
Do I need to do anything to prepare myself before taking the post-course quiz?
Yes, please ensure you download the study guides located in the "Downloads" tab and complete your participant waiver (if you haven't already).
When will I receive my certificate?
For a live/webcast course:
If you have completed all the course paperwork and quizzes, you will receive your certificate in approximately three weeks from the course completion date.
For an on-demand course:
You will receive your certificate immediately after completing your course.
How do I know if a course is approved for CEUs?
Please check the "CEU Details" tab on the course listing page. Each course, profession, and state have different approvals. If you do not see your profession and/or state on the CEU Details page, then we do not have approvals. You are more than welcome to check with your licensing board to see if the course meets their requirements.
I am enrolled in a webcast. How do I log in to access the webcast?
Once you register and complete your waiver you will receive login instructions that includes your password to the webcast. Please read this document carefully and in full.
Do you have any other questions or concerns?
Please reach out to student@rocktape.com.
Reid Nelles, DC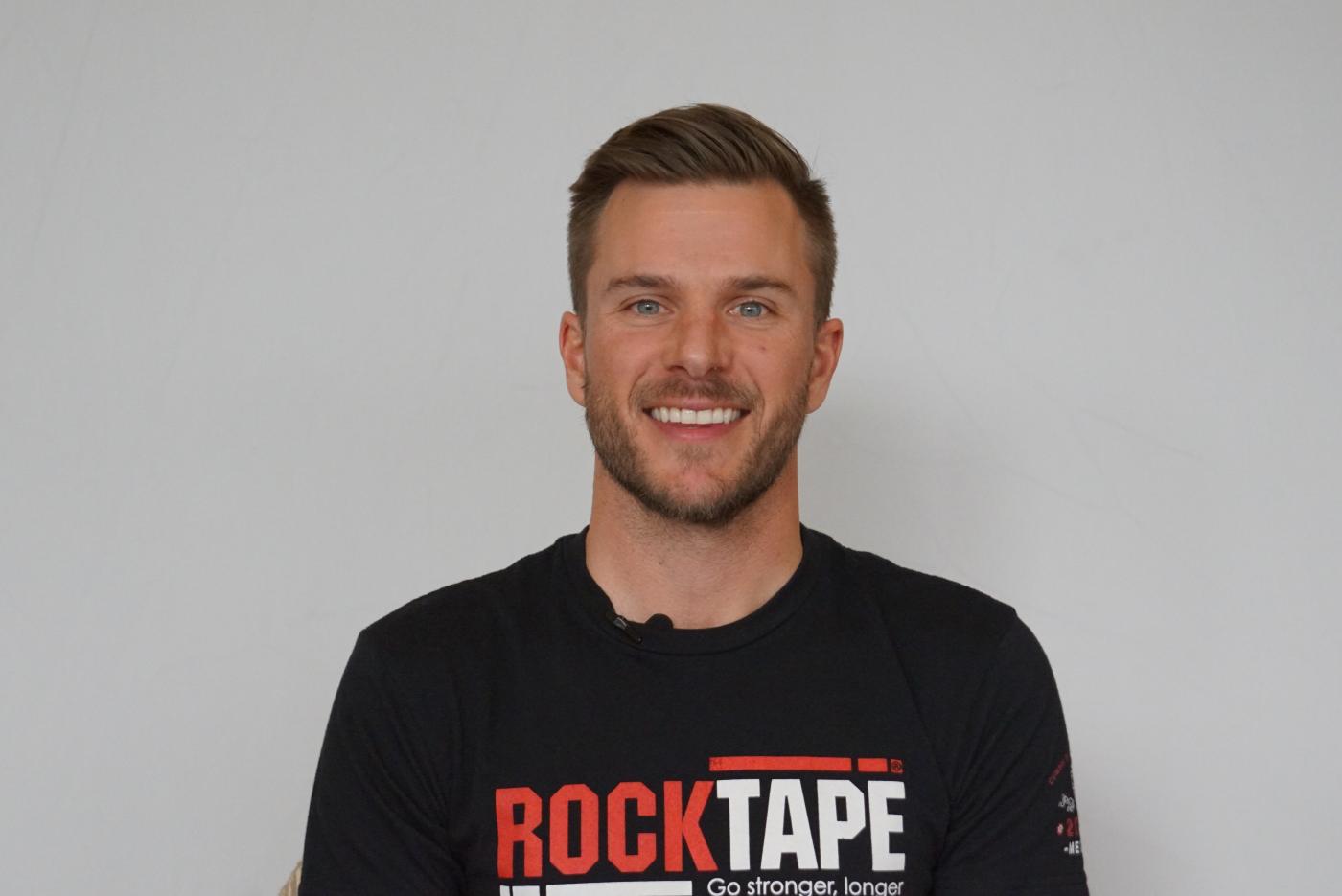 Dr. Reid is a chiropractor whose passion is to restore and improve qualities of movement. Humans are made to move, so this concept doesn't stop at just athletes but extends to everyone.
Reid earned his Bachelor of Science from University of Minnesota – Duluth where he then followed his passion onto Northwestern Health Sciences University to pursue a Doctorate in Chiropractic. While attending Northwestern, Reid was fortunate to be chosen for the Medical Staffing of the World Sport Games in Lignano, Italy which kick started his infatuation with sports chiropractic.
At his clinic, Minnesota Movement, Dr. Reid helps clients find their ability by utilizing movement patterns, corrective exercises, hands-on techniques, and education. He has had the fortune of working with athletes across a wide range of endeavors such as the NHL, CrossFit Games Athletes, LPGA, PGA, Ironman Participants, MLB, and NFL as well as elite weekend warriors.
Hour 1: 
Welcome & Introduction

 

Present outline of coursework with Learning Objectives coinciding

 

Who qualifies as a Rotational Athlete?

 

Throwing

 

Kicking

 

Tennis

 

Golf

 

Hockey

 

Common shoulder injuries across rotational sports

 

Traumatic vs. Over-use/Dis-use (-itis/-osis)

 

Acute vs. Subacute vs. Chronic

 

Structual vs. Muscular vs. Neuro

 
Hour 2:  
Hour 3:  
Movement Assessment

 

Glenohumeral Joint Assessment

 

Acromioclavicular Joint Assessment

 

Sternoclavicular Joint Assessment

 

Scapular Assessment

 
Hour 4:  
Hour 5:  
Hour 6:  
DC
This course is valid for continuing education credit through NUHS in the following states, so long as it falls within the scope of practice as outlined by the corresponding state board: AK, CO, CT, DE, DC, ID, IL, IN, IA, KS, KY, ME, MD, MA, MI, MN, MO, MT, NE, NV, NH, NJ, NC, ND, OH, OR, RI, SC, SD, TX, UT, VT, VA, WA, WV, WY (Considered distance learning, please check with your board how many hours you are allowed)
Please note that online continuing education is not recognized in the following states: FL, LA, MS, OK, WI
*NUHS makes no representation either directly or indirectly that the substantive matter being presented is approved or within respective scope of licensing. It remains the attendees' responsibility to contact the state board(s) from which they seek continuing education credits for purposes of ensuring said board(s) approves both the delivery method and content as they relate to this event.
PT/PTA
The Shoulder Complex meets continuing education requirements for these State Physical Therapy Boards: AL, CO, CT, IA, ME, MA, MN, NH, OR, SD, UT, WA, WY
The Shoulder Complex meets continuing education requirements for these State Physical Therapy Boards by virtue of approval by APTA Kentucky, A Chapter of the American Physical Therapy Association, for 6 Category 1 contact hours: AK, AZ, DE, GA, HI, ID, IN, MI, MS, MO, MT, NC, ND, PA, RI, SC, TN, VA .
FL - The Shoulder Complex is approved by the FPTA for 6 hours, CE Broker Approval #:CE22-907774
IL - The Shoulder Complex (6 contact hours) meets continuing education requirements for these State Physical Therapy Boards by virtue of a National University of Health Sciences approval. NUHS is recognized by the Secretary of States Department of Education.
KY - This program has been approved by the APTA Kentucky, A Chapter of the American Physical Therapy Association, for 6 Category 1 contact hour(s). Approval Number: 146-APTAKY-2023.
TX - This activity has been approved by the Texas Board of Physical Therapy Examiners for 6.00 CCUs for PTs and PTAs. Approval: 75531TX.
ATC
The Shoulder Complex (BOC Approved provider # P8570) is approved by the Board of Certification, Inc. to provide continuing education to Certified Athletic Trainers. This program is eligible for a maximum of (6 hours/CEUs The Shoulder Complex Category A). ATs should claim only those hours actually spent in the educational program.