Description
Bulletproof Shoulder is the first course in the Bulletproof series that instructs professionals on optimizing upper quarter dynamic movement, strength, and speed for clients of all ages. A significant focus will be placed on both the quality and the purpose of movement pattern assessment, implementing exercise progressions, and developing elite, recreational, and daily life performance. Focused progression and regression will be the emphasis of this course, so students can cleanly deliver the best program for client at exactly the right time.
The foundation of this course is built on movement science principles from high level contributors such as FMS, EXOS, Strong First, and the NSCA. The course takes content from all of these educational groups and brings it together to be easily implemented in a gym or clinical setting for both the general population or elite athletes.
Note: Tools are not provided with this course.
Learning Objectives
Develop respect for the biomechanics, joint contributions and myofascial layerings that influence upper quarter performance and health
Demonstrate the ability to perform baseline assessment for necessary movement quality prior to implementing high level upper quarter fitness
Implement appropriate mobility interventions for specific limitations
Implement appropriate exercise progression along the rehabilitation and performance continuum
Demonstrate proficiency in the developmental drills for the Upper Quarter
Demonstrate proficiency with progressions toward Vertical and Horizontal Push/Pull patterns with strength and speed
Recognize situations where the use of a kettlebell will facilitate improved motor control and strength for the Upper Quarter
Demonstrate appropriate exercise implementation following Case Study learning model
Course Content
| | | | |
| --- | --- | --- | --- |
| Kime Performance PT Bulletproof Shoulder | Module | | |
25% fee for cancellations on courses that have been marked as "in progress" - or partially viewed. Execution of refund is contingent upon the review of RockTape/Implus Footcare LLC to determine course status. Full refunds will be issued to those who have not reviewed any portion of the course and will be processed within 3-5 business days. Refunds expected to be returned to the original payment method used unless stated otherwise by RockTape/Implus Footcare LLC. Due to the method of delivery for these courses (i.e., on-demand), registration is ongoing and therefore does not have a registration deadline associated with it.
Yes, we offer military, student, and group discounts. For a student discount, please email a copy of your student ID or current course schedule with the year on it to student@rocktape.com. Be sure to note the exact course you are enrolling in to receive a specific code (i.e. August 15th, 2023 Basic Webcast).
What are your hours of operation?
Monday-Thursday: 7a-4p EST
Friday: 7a-4p EST
Holidays may impact these hours.
Will I receive supplies with my course purchase?
This depends on the course type. The materials for a live course will be shipped to the course location and will be presented to you upon arrival. Webcast supplies will be sent directly to you and should be received on the week of. Our on-demand courses do not include supplies but can be purchased separately through our medical distribution partners. Please visit the "Get Medical Pricing" tab to purchase discounted materials for use in an on-demand course
When does course registration close?
For a webcast course:
Webcast registrations close the Friday of the week before the scheduled class date/time (8/9 days -unless otherwise stated).
For a live course:
Live course registrations close 24 hours before the scheduled course date/time.
I am enrolled in a webcast, but I have not received my supplies yet. Now what?
Supplies are sent manually on a course-by-course basis. This means your supplies and informational email will be sent to you on the week of. If you do not receive your supplies by the Thursday before the course, please reach out to student@rocktape.com for assistance.
Do I need to have someone with me to practice on during a webcast or an on-demand course?
No, it is not necessary for you to have a model with you while you complete the course. However, we do find it helpful to practice the principles as they are presented, so you are more than welcome to have someone present with you during the course. Note: Any model/person(s) who have not registered for the course will not receive a certificate or CEU credits.
Do I need to do anything to prepare myself before taking the post-course quiz?
Yes, please ensure you download the study guides located in the "Downloads" tab and complete your participant waiver (if you haven't already).
When will I receive my certificate?
For a live/webcast course:
If you have completed all the course paperwork and quizzes, you will receive your certificate in approximately three weeks from the course completion date.
For an on-demand course:
You will receive your certificate immediately after completing your course.
How do I know if a course is approved for CEUs?
Please check the "CEU Details" tab on the course listing page. Each course, profession, and state have different approvals. If you do not see your profession and/or state on the CEU Details page, then we do not have approvals. You are more than welcome to check with your licensing board to see if the course meets their requirements.
I am enrolled in a webcast. How do I log in to access the webcast?
Once you register and complete your waiver you will receive login instructions that includes your password to the webcast. Please read this document carefully and in full.
Do you have any other questions or concerns?
Please reach out to student@rocktape.com.
Tony Mikla, DPT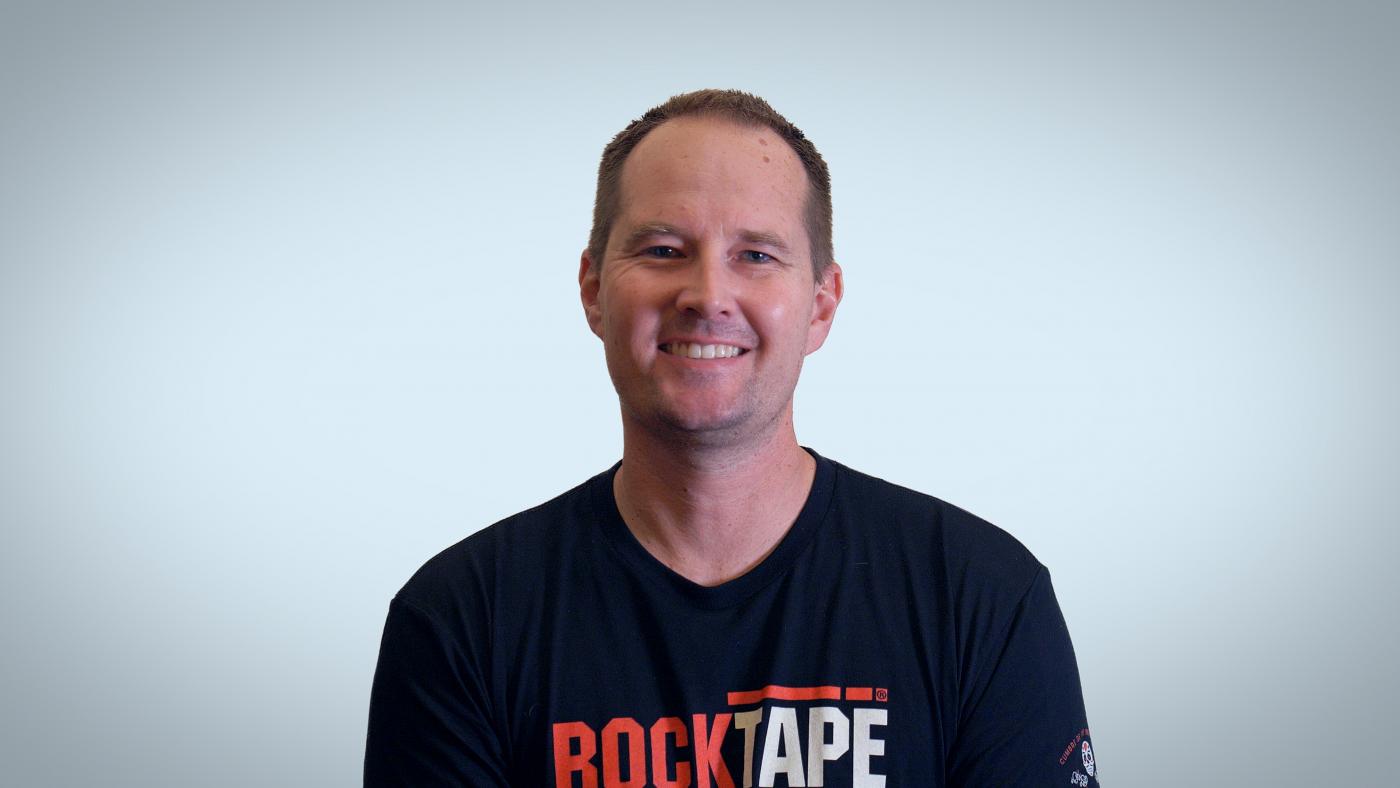 Tony is a leading sports physical therapist, performance coach, and researcher. He speaks and teaches nationally on sports physical therapy and regularly publishes research in international journals. Tony previously served as the Physical Therapy Manager at the world-renowned EXOS in Phoenix, AZ, working with some of the best athletes in the world. He was the Medical Director for the Sacramento Sports Commission and adjunct faculty in Physical Therapy at Sacramento State University and Northern AZ University. In 2015, Tony was named a finalist for the NSCA Sports Medicine Specialist of the year and was awarded the 40 Under 40 Award from the Sacramento Business Journal in 2017.
Hour 1: Joint by Joint/Functional Line/Biomechanics
Joint by Joint (the GH is not alone!)

Anatomy Trains

Anterior spiral line (integration)

Posterior spiral line (integration)

Breathing components

Biomechanics

Scapular-humeral rhythm

Contribution of thoracic spine and cervical spine
Hour 2: Assessments
Hour 3: Mobility Interventions
Hour 4:Stage 1 Strength/Stability
Rotator Cuff

DB Raises

Scaption, Hinge Extension, Hinge T's

Sidelying ER → Side bridge ER → Side plank ER

Stability Ball T's, Y's

Band

Standing ER (by side) → 90/90 ER

Shoulder Girdle Integration

Supine Arm-Bar → Supine Bottoms-Up Arm-Bar

Sidelying

Arm-Bar →

Sidelying

Bottoms Up Arm-Bar
Hour 5: Stage 2 Strength/Stability
Push Progression

Push-up hold → Push-up hold shoulder tap

Elevated Push up → Floor push-up

Pull Progression

Standing Cable Row (double arm) → Standing Cable Row (single arm)

Lat-pulldown → Assisted Pull-up (band or machine) → Pull up

Shoulder Girdle Integration

KB halos ½ kneeling and full kneeling

Get-up: supine to elbow → elbow to tall sitting

Overhead Carry

Side Plank holds

Stage 3 Strength/Stability

Push Progression

Overhead Carry → Single arm Vertical Press (½ kneeling → standing)

Pull Progression

Sled rope pulls

Shoulder Girdle Integration

Get-up: tall sitting to high post → post to sweep → windmill
Hour 6: Case Studies
Stage by Stage

Client demographics
DC
This course is valid for continuing education credit through NUHS in the following states, so long as it falls within the scope of practice as outlined by the corresponding state board: AK, CO, CT, DE, DC, ID, IL, IN, IA, KS, ME, MD, MA, MI, MN, MT, NE, NV, NH, NJ, NY, NC, ND, OH, OR, RI, SC, SD, UT, VT, VA, WA, WY (Considered distance learning, please check with your board how many hours you are allowed)
Please note that online continuing education is not recognized in the following states: CA, FL, LA, MS, OK, WI
CEU approval for this course has been submitted and is pending: AL, AR, GA, HI, KY, MO, NM, PA, TX and WV
*NUHS makes no representation either directly or indirectly that the substantive matter being presented is approved or within respective scope of licensing. It remains the attendees' responsibility to contact the state board(s) from which they seek continuing education credits for purposes of ensuring said board(s) approves both the delivery method and content as they relate to this event.
PT/PTA
Bulletproof Shoulder meets continuing education requirements for these State Physical Therapy Boards: AL, CO, CT, IA, ME, MA, MN, NH, OR, SD, UT, WA, WY
FL – Bulletproof Shoulder is approved by the FPTA for 6 hours, CE Broker Approval #:CE23-907754
IL - Bulletproof Shoulder (6 contact hours) meets continuing education requirements for these State Physical Therapy Boards by virtue of a National University of Health Sciences approval: IL . NUHS is recognized by the Secretary of States Department of Education.