Description
FMT External Pelvic Health Therapy for Pregnancy and PostPartum is a course designed for health and medical practitioners who are interested in learning more about assessing and treating women throughout the pregnancy and postpartum period. External pelvic health therapy addresses common issues affecting the pelvis, pelvic floor and supporting core musculature without using an internal exam. Topics covered include subjective screening and external objective assessments for baseline fitness and readiness for activity, specific screening and treatment strategies for pregnancy and postpartum related conditions (such as pelvic girdle pain, pregnancy incontinence, etc.) and exercise prescription for this population.
Functional Movement Training (FMT) courses are taught by industry leading experts in movement assessment, performance and rehabilitation. CEUs may be offered for DC, ATC, PT, LMTs, LAc, OTs and personal trainers. If your profession & state is unavailable, we do not currently offer CEUs – however, we are continually adding additional licenses.
This course is 6 hours in length and a 30 Question multiple choice quiz will be required after completing the course to receive your CEU certificate. A 70% test score is required to pass and receive CEUs. The quiz can be open book and unlimited attempts on the quiz are allowed.
Note: Tools are not provided with this course.
Learning Objectives
Module 1 - Where to Begin
By the end of the module, the participant will be able to:
Define the anatomy and function of the Core 4 musculature
Discuss the role of the Core 4 in breathing mechanics
Explain how the Core 4 plays an important role in pressure management, posture and force transmission
Define and discuss how the Core 4 and breathing are challenged throughout early pregnancy
Discuss common myths and recent evidence supporting exercise during pregnancy 6. Apply subjective and objective early pregnancy screens for: breathing, Core 4 function, posture, peripheral mobility and abdominal integrity in early pregnancy
Module 2 - Assessing and Treating Pain and Dysfunction Throughout Pregnancy
By the end of the module, the attendee will be able to:
Describe anatomy changes typical during the second and third trimesters
Describe common issues that develop during pregnancy, including: breathing pattern dysfunction, diastasis rectus, thoracic pain, sciatica, pelvic girdle pain, piriformis syndrome, pelvic organ prolapse (POP), pregnancy incontinence (urge and stress)
Apply appropriate subjective screens and objective assessments for the above issues
Choose appropriate treatment strategies for the above issues, including: education for the patient, manual therapy appropriate for the stage of pregnancy, safe exercise prescription, the use of support devices and kinesiology tape, recommendations for activity modification
Determine when it is appropriate to refer out to other healthcare specialists
Module 3 - Delivery Prep and 1st 6 Weeks Postpartum Care
By the end of the module, the attendee will be able to:
Employ safe techniques to prepare the abdominals, pelvic floor and breathing patterns for delivery
Discuss the role of the nurse, midwife and OB during the labour and delivery process
Develop a subjective and objective post-delivery screening process for identifying typical postpartum issues (such as DR, urinary incontinence, scar mobility etc.) for vaginal vs C/section deliveries
Modify and progress activity levels safely during the 1st 6 weeks postpartum
Module 4 - Return to Activity for the Athlete
At the end of the module, the attendee will be able to:
Describe considerations and goals for returning to activity
Choose appropriate support devices such as abdominal binders, pelvic girdle belts and kinesiology tape to help patient's mobility and stability as indicated
Describe and apply the basics of a progressive loaded exercise/activity program
Confidently select appropriate exercises for various conditions that present postpartum
Modify exercises and activities according to presenting signs and symptoms 
Course Content
| | | | |
| --- | --- | --- | --- |
| External Pelvic Health for Pregnancy and PostPartum | Module | | |
25% fee for cancellations on courses that have been marked as "in progress" - or partially viewed. Execution of refund is contingent upon the review of RockTape/Implus Footcare LLC to determine course status. Full refunds will be issued to those who have not reviewed any portion of the course and will be processed within 3-5 business days. Refunds expected to be returned to the original payment method used unless stated otherwise by RockTape/Implus Footcare LLC. Due to the method of delivery for these courses (i.e., on-demand), registration is ongoing and therefore does not have a registration deadline associated with it.
Julia Mitchell, PT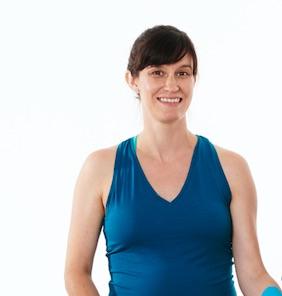 Julia Mitchell is a Physiotherapist and RockTape Instructor, with a passion for supporting women during pregnancy and postpartum. She completed her Master of Science in Physiotherapy from Dalhousie University in Nova Scotia, Canada, and also holds a Bachelor of Arts in Human Kinetics with Honours from St. Francis Xavier University in Nova Scotia, Canada. She has worked in the private practice physiotherapy industry in Nova Scotia for many years, and is proud to provide focused, movement based, one on one care to all of her clients. She currently practices as part of a multidisciplinary group at The Pelvic Health Clinic in Cole Harbour, Nova Scotia. Julia has completed continuing education in multiple areas, including evaluating and treating the female athlete, running injury prevention, addressing core mechanics and diastasis recti in postpartum women, acupuncture, dry needling, kinesiology taping and IASTM, among others. Julia is the founder of Mom on the Run Productions, Inc., a company focused on providing running and movement solutions for busy parents. She has spoken on the topic of running during the 4th trimester at a women's health summit, and co-created an education course for healthcare and fitness providers on external pelvic health care during pregnancy and postpartum. Julia is an avid runner, and Mom to two funny and busy little ones. She loves spending time outside being active with her family. You can find more information on her website, www.juliamitchellphysio.com, and on Instagram @momontherun.can
---------------------------------------
Elizabeth Frey
FCAMPT, MCISC(MANIP), MSc. PT, MSc, BPHE, BSc, MCPA Physiotherapist, Contemporary Medical Acupuncture Provider, Pelvic Health Physiotherapist.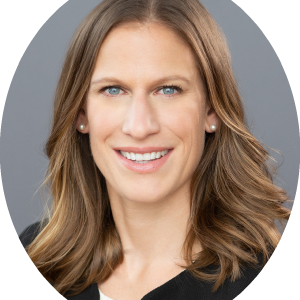 Liz holds a BSc and BPHE from Queen's University; a MSc in Exercise Physiology from the University of Toronto, and a MSc (PT) from McMaster University. In 2010 she went on to complete a third Master's degree from the University of Western Ontario in Clinical Science in Manipulative Therapy. She has also achieved the designation of Fellow of the Canadian Academy of Manipulative Physical Therapists (FCAMPT), the highest level of training in orthopaedic manual therapy. Liz has completed her contemporary medical acupuncture training through Mc Master University as well as AFCI.
As an orthopaedic and pelvic health physiotherapist Liz integrates her over 15 years of clinical expertise to provide a unique whole-body approach to wellness. She addresses the root cause of an injury. This allows her to provide the most effective and efficient treatment strategies to get her patients better faster without injury reoccurrence. Her patient centered approach empowers patients to set goals, balance muscular dysfunction and work towards optimal health. She does all of this through manual hands-on techniques, taping, cupping, acupuncture, comprehensive education and tailored progressive exercise programs.
Since having her children Liz has completed extensive training in pelvic health physiotherapy and centered her practice around helping women with pelvic and core dysfunction. Liz guides women through the challenges associated with pregnancy, postpartum, menopause and everything in between. She transforms and empowers women to be strong and active through her unique approach.
Liz is an instructor for RockTape Canada, clinical lab facilitator at the University of Toronto and clinical supervisor for physiotherapy students. She continues to stay current in her profession through postgraduate courses and seminars. Some special interest courses completed include running injury prevention, gait analysis, pelvic health, cupping, taping and instrument assisted therapy.
Liz is living her best active life. As a busy mother of three children she uses positive mindset and fitness to maintain her focus and achieve success.
Module 1
Hour One
Introduction of course creators/presenters.
Module learning objectives.
Description of external pelvic health therapy.
Research demonstrating why this type of education is needed.
Introduction to the anatomy and function of the Core 4 muscles and how they work with breathing mechanics, pressure management, posture and force transmission.

Respiratory pump description.
Discussion of how the Core 4 and breathing mechanics are challenged early in pregnancy.

Discussion of common myths surrounding exercise and pregnancy.

Review of recent research and guidelines supporting exercise during pregnancy. Joint SOGC/CSEP Clinical Practice Guidelines Nov 2018
Relative precautions and absolute contraindications to exercise in pregnancy.
SOGC/CSEP definition of recommended 'moderate intensity' exercise.
Review of exercise goals during pregnancy.
Subjective screen for current pelvic health issues.
Subjective screen for baseline fitness and exercise readiness in early pregnancy.
Objective assessments for posture, peripheral mobility, breathing strategy, abdominal integrity and pelvic floor awareness.
Exercises that are appropriate for early pregnancy.
Review of module one and preview of module two.
Module 2 – Assessing and Treating Pain and Dysfunction Throughout Pregnancy (2nd and 3rd Trimesters)
Hour Two
Module learning objectives.

Identification of Core 4 and breathing functional changes typical during the second and third trimesters.
Introduction of common pregnancy-related conditions typical during the second and third trimesters, including breathing pattern dysfunction, diastasis recti, pregnancy incontinence, sciatica, pelvic girdle pain, pelvic organ prolapse, low back pain and

piriformis syndrome.
Subjective screening questions for common pregnancy-related conditions.
Objective tests and corrective strategies for condition specific issues.
Review of optimal treatment strategies when managing common pregnancy related issues.
Exercises which are recommended to discontinue in the 2nd and 3rd trimesters.
Exercises appropriate to begin or continue in the second trimester.
Review of module 2.
Preview of module 3.
Module 3 – Delivery Prep and 1st Six Weeks Postpartum Care
Hour Three
Module learning objectives.
Review of Core 4 changes during delivery – vaginal and C/section
Teach techniques and strategies to prep the body for delivery, breathing control, visualisation, hip mobility, birth positions.
The role of the OB or midwife during delivery – pain management, pushing instruction.
Hour Four
Define and set goals for the 4th trimester.
Discussion of typical issues that can arise.

Subjective screen for vaginal delivery and C/section.
Objective assessments for typical postpartum issues, including breathing pattern, DR, scar mobility and healing, pelvic girdle pain and urinary incontinence.

Recommended activity levels for the 4th trimester.
Activities and exercises introduced for the first 6 weeks postpartum.
Review of module 3.
Preview of module 4.
Module 4 – Return to activity for the athlete.
Hour Five
Module learning objectives.
Review of considerations for returning to activity.
Return to activity screen.
Goals for returning to activity – progressive tissue loading, maintaining correct pressure management of Core 4 during increased demand, pain and symptom management as necessary, improve cardiovascular status.
Introduction of abdominal binders, pelvic support belts and kinesiology tape for symptom management options.
Application options for support devices, pros and cons of each.
Hour Six
Steps for regressing and progressing exercises.
Examples of how to regress or progress a squat, running and yoga positions according to the presenting signs and symptoms.

Explanation of exercise appendix.
Review of Module 4.
Appendix
Copies of subjective screens presented throughout the course.
Exercises for pregnancy and postpartum, with videos of regressions and progression suggestions for each.
PT/PTA
This course meets continuing education requirements for these State Physical Therapy Boards: AL, CO, CT, IA, ME, MA, MN, NH, OR, SD, UT, WA, WY
FL – Approved by the FPTA for 6 hours, Approval #:CE23-908214